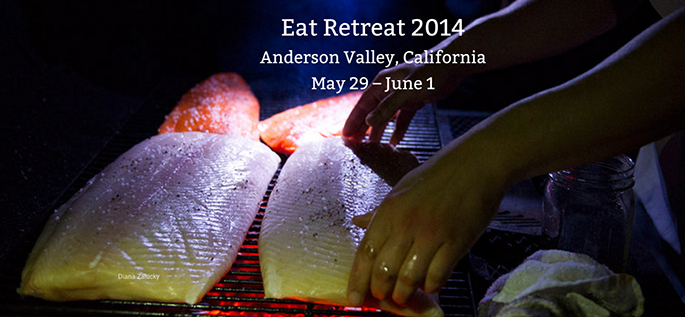 Four weeks from today I will jump in my car and head 2 hours north to the Alexander Valley to gather with thirty nine other food-minded peeps for summer camp. Well, "summer camp meets the farmers' market", as they so delightfully put it… I am thrilled (and honored) to have been selected for Eat Retreat 2014!
'Eat Retreat is a weekend workshop dedicated to good food and innovative thinking. Created for leaders in the food community, the objective of this invite-only event is to inspire, rejuvenate and celebrate a shared joy of food. Eat Retreaters are food writers, entrepreneurs, chefs, food system visionaries, community builders, photographers, farmers, and makers of all kind. Attendees are hand-selected for their zeal, creativity, and collaborative skills and spend the weekend sharing meals, exchanging ideas, and relishing new flavors.'
Zeal – check
Creativity – check
Collaborative skills – YOU GOT IT.
Here is a great interview with one of Eat Retreat's founders, Kathryn Tomajan, explaining how Eat Retreat got started and why it continues to inspire.
As you might imagine, I will spend quite a bit of my time over this sure-to-be-amazing weekend gathering images and stories to bring home and share. Whilst there, I will be running a little workshop on mobile photography and I've also signed up to be one of the cocktail crafters. Perhaps I'll even run a little competition amongst my Eat Retreat peers to help come up with the best name for my best cocktail recipe? I still have some time to think of a good prize …
OH MY GOSH CAN WE GO RIGHT THIS MINUTE?


(all images by previous eat retreaters)